Man Accused of Groping Woman on Flight Cites President Trump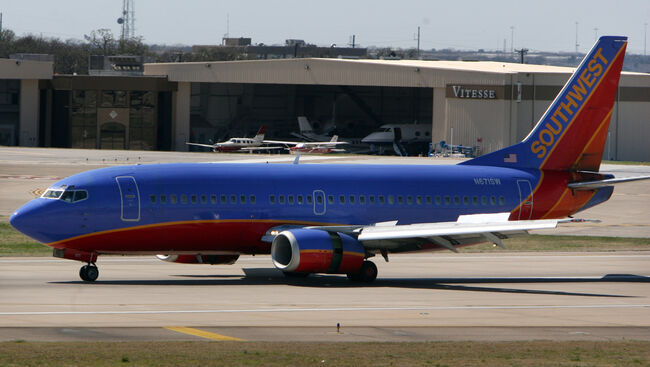 A man who was arrested for allegedly touching a woman's breast while on a Southwest flight from Houston to New Mexico on Sunday reportedly cited President Donald Trump past lewd language about grabbing women.
Federal prosecutors say Bruce Alexander, 49, of Tampa, Florida, was arrested by authorities on an abusive sexual contact charge after he allegedly leaned forward twice to touch the breast of a woman sitting in front of him.
According to the arrest affidavit, when officers placed Alexander in handcuffs, he reportedly told officers that "the president of the United States says it's OK to grab women by their private parts."
Authorities say Alexander is accused touching a woman's breast while he was sitting behind her on Southwest flight 5421 on Sunday. The woman says she felt Alexander's hand move behind her, and then reach forward to her seat where he grabbed her right breast. She told officers she fell asleep about 20 minutes into the flight to Albuquerque and felt Alexander touch her not long after. She assumed it was an accident at first, court documents say.
However, about thirty minutes later, the woman says Alexander's hand returned, grabbing the back of her arm, then then around to her ribs and breast.
"She rose from her seat, turned around and told the passenger behind her that she didn't know why he thought it was OK and he needed to stop," court documents stated.
The woman then asked a flight attendant to re-seat her, and was quickly moved by Southwest staff.
Federal authorities were waiting for Alexander in Albuquerque when the flight landed. The 49-year-old
Shortly thereafter, Alexander told the arresting officers that "the president of the United States says it's OK to grab women by their private parts" according to court documents.
Alexander was charged with abusive sexual contact and remains in custody pending a preliminary hearing and detention hearing on Tuesday. If convicted, Alexander faces a maximum penalty of two years in jail and a $250,000 fine.
"We take protection of our customers very seriously, and safety is at the forefront of everything we do at Southwest," the airline said in a statement to USA Today. "As part of this operating philosophy, Southwest flight attendants are trained in a wide range of sensitive customer issues. When aware of a potentially harmful situation – whether first-hand or reported by someone else – our flight attendants are trained to re-seat customers and notify the pilots to request law enforcement, as appropriate. We cooperate with law enforcement to protect our customers and crews."
Photo: Getty Images