Tony Cruise & The Morning Team
FIRST FLYING CAR - WHAT WILL IT LOOK LIKE? WILL WE EVER SEE IT? - 3.11.14 VOD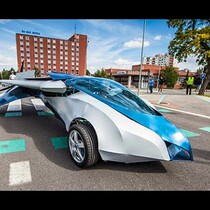 Posted March 11th, 2014 @ 7:05am
There's a lot of talk about the first "Flying Car". Could it look like this? When will we see the first one for sale to the general public? Check it out and take our online poll below.


*****start poll*****
Poll: When we we see the first flying car (for sale)?